Hello!
We has a pretty spooky week this week, in preparation for the weekend.
We started off working hard on our horror stories. Most of the students are pretty much done, except a couple of proof reading aspects I will correct over the weekend. I will be posting a picture of all of our stories on Monday. Some are pretty spooky, and definitely give off a Scooby Doo vibe.
We finished off our government unit in social studies, with a game of jeopardy, creating a cheat sheet from our notes, and having a final test. Most did well with their test, although some struggles because their cheat sheet was lacking information and was disorganized. So those who got under 35, I taught them how to redo their cheat sheet in a more organized way, and retake the test. They did much better with an organized cheat sheet. Our results from the student vote came back, lots of John Horgan fans apparently in my class.
In science this week we had an introduction to our energy and simple machines unit with a capatapult competition! In groups students designed and built their own competition, using craft sticks, tape, and elastics. Their were some good designs, though the best designs used a lever motion, rather than a spring motion.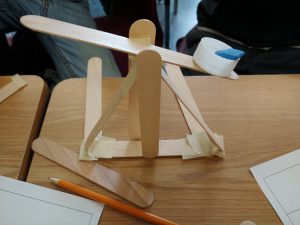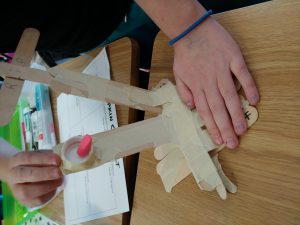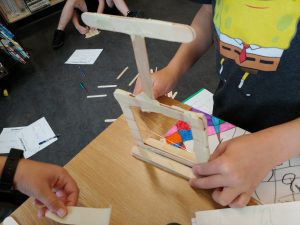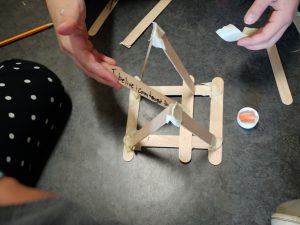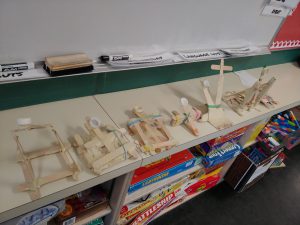 Mine however was the champion.
In math we learned about converting standard for numbers into expanded and written form. So 373, 903 is standard form. To turn it into expanded form you take each place value number away, so 300,000+70,000+3,000+900+3. Written form is using words, so there hundred seventy three thousand nine hundred three. We also used this information to compare and order numbers.
We also finished off our grammar unit in language arts, finding and circling nouns, verbs, adjectives, and adverbs in sentences.
In French we learned some Halloween vocabulary, and player some french Halloween bingo.
And finally on Friday we had a pumpkin carving contest! It was a lot of fun and some cool pumpkins ideas. I managed to win this competition too, because I played to my audience and carved a familiar character which I knew would get more votes.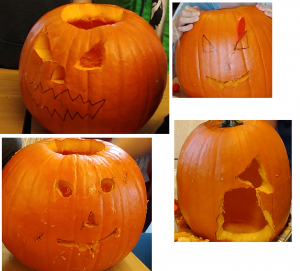 I hope everyone got the email on Thursday about having a discussion with their child about their online presence. It is very important to have a continual conversation about what they are seeing and who they are talking to on the internet.
I hope everyone has a spooky and safe weekend, and see you Monday.
P.s. I told all my student's about a candy tax, so be warned.