Hello!
We did it, we made it to winter break!
We took it easy this week with some math games, french bingo, french colour by number, a couple of read and respond activities, and some fun art activities.
We learned to make 3D snowflakes, hope you enjoy them at home. We also learned to make simple cartoon animations.
On Friday we celebrated by making ice cream in a bag, and having it on some waffles and pancakes. They were delicious.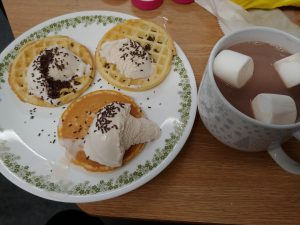 We also watched the Lorax, to finish off our natural resource unit.
In January we will be reviewing multiplication and learning two division strategies. We will work on some creative story writing. We will finish up simple machines and build a Rube Goldberg machine. We will learn about french preferences. And in social studies we will discuss facts, opinions, propaganda, and proper researching techniques.
Have a good winter break, be safe, and see you in 2 weeks.