Hello!
Another busy week, as we started many of our new units.
In math we learned how to read a clock! We discussed 'quarter after', 'half past', and 'quarter after'. We looked at how the numbers represent every 5 minutes, so they could count by 5 to find out the time. We also looked at length of time, and how much time as past from start to finish.
In language arts we continues with our novel study. We are now on chapter 26, almost half way. The kids are trying to find clues which will help them escape the library.
We also started our poetry unit this week. We briefly talked about what poetry is, and some poetic terms, such as alliteration, simile, hyperbole, metaphor, onomatopoeia, and personification. We will be experimenting with these as we.practice different types of poems. Our first poem is an acrostic poem.
In social studies we started our look into Canadian history. Groups of 3 researched one area of Canadian history and came up with 9 important dates related to their topic. The topics include: fur trade, early explorers, BC Confederation, residential schools, war, human rights, and Canadian identity. Next week the dates will be broken up among group members, and they will research more into their event.
In science we started our biome unit. We briefly covered aspects about each of the land biomes: grassland, Savanah, desert, tundra, tiaga forest, deciduous forest, and tropical rainforest. We will be doing a lot of research into a biome, as part of a project. We will also look at adaptations and the food chain.
On Thursday we had an online visitor come to our class. An elder taught us how to use weaving tools, and we made a mini Metis scarf.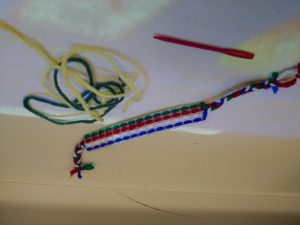 Next week we will work on measurement and units in math, try out some more poetry styles, research our first Canadian timeline post, look into animal adaptations, and create a winter mosaic. It will be another busy week.
Have fun and stay safe, see you Monday.