Hello!
This week sure went by fast, tends to happen when we're all having fun.
We learned about probability in math this week, with odds of 'certain, impossible, unlikely, and likely' for events. On Friday I taught them a fun dice game, a mix between bones and farkle; they seemed to like it.
A couple of students have finished their kids book/comic, though most are still working on it. It is our goal for next week to finish.
We finished off our country projects on friday, they are pretty interesting. They will be presented early next week.
We skipped science this week and I taught the class how to play Frisbee golf instead. It was pretty fun, and they are getting much better at throwing discs. We will have a tournament next week.
Speaking of golf, our mini golf and bowling field trip was a huge success. We had a great time, and some learned a new game. Thanks again for our parent volunteers. Our top mini golf players were Ryker, Claire, and Kaydn. Our top bowlers were Alisha and Kaleigha.
We also wore our new tie dye socks! They turned out pretty well for a 50/50 cotton blend.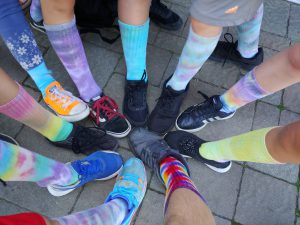 We also got our artwork back from the PAC fundraiser. Our pointillism pieces.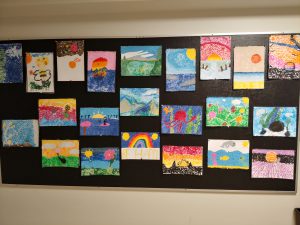 I sent home a notice today about our class field trip to Carlow park next Wednesday. Should be a fun trip.
Have a safe and fun weekend, and see you next week.