Hello!
It was nice to finally see some warm weather this week. Means more outdoor learning!
We finished book 1 of our novel study this week, and discussed the characters, events, and made a prediction about the next book. We discussed as a class to get a feel of what each student's needs to talk about, so that next time they can discuss their book in a lit circle.
We are continuing to work on our personal PowerPoint presentations this week. Next week we should finish them, and I will go over how each student can't only just copy paragraphs from Google and paste them in, that they need to be edited and put into their own words.
In science we learned about the respiratory system and the circulatory system. As both these systems work together to give oxygen to the body. We performed an experiment on Friday where we had to measure our own pulse after different types of activities.
In math we are learning about comparing fractions, first on a number line, and then with equivalent pairs. Though after working on it for a week, some students decided to get a little lazy with their quiz, and not follow my strategy. So we will be doing a retest on Tuesday.
In Art we worked on two projects. First was a pointillism piece, for the PAC's art card fundraiser. Those finished in time were also able to create some Jackson Pollock marble paintings.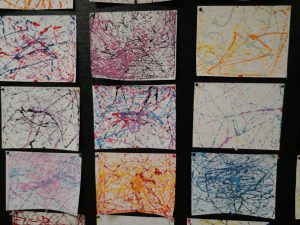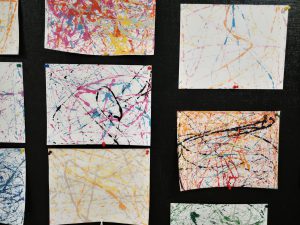 Next week we will look at turning fractions into decimals, learn about the skeletal and muscular systems, start our second book, and start some coding.
Have a good long weekend, and see you Tuesday.